Q&A with Heather Robertson
Heather Robertson, MPA, is Director of Executive Operations for the Behavioral Health Wellness Environments for Living and Learning (BH WELL) research team. She also holds a joint appointment with UK HealthCare management at Eastern State Hospital where she is Director of Work Learning. She oversees program growth and development, budgets, contracts, and staffing. Heather has over 30 years of experience in business and public administration with expertise in program management, growth, and development; resource development and management; fiscal development and management; research; and evidence-based evaluations, surveillance, and inspections. She holds a Masters of Public Administration and is a 1994 graduate of the 2-year post-graduate Federal Presidential Management Program which she completed during the terms of Presidents George H.W. Bush and Bill Clinton. She served in the Department of Health and Human Services' Health Care Financing Administration (HCFA) which is now the Centers for Medicare and Medicaid Services (CMS) and the Office of Inspector General Inspections and Evaluations. She has been with the University of Kentucky College of Nursing since 2005. She and Dr. Zim Okoli began developing a behavioral health team in 2013 and created BH WELL in 2016 from the ground up. Heather also co-created and manages a Work Learning Program (WLP) at Eastern State Hospital that was designed using the evidence-based components of the Living Learning Programs (LLP).
Dr. Zim Okoli shares, "At BH WELL, we truly benefit from Heather's many years of experience in growing, managing and supporting different academic and research programs. As the Director of Executive Operations for BH WELL, her dedicated management of the program, staff, and students ensure that our vision, mission, and goals are faithfully carried out. Her warm, kind, steady, and lighthearted personality set the tone for our team's ability to stay on track for the work that we do, while having fun doing it. Heather's constant encouragement is for us not to settle for merely the 'good', but strive for the 'wow'!"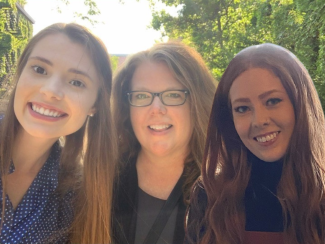 Q: When you were young, what did you want to be when you grew up?
What did I not want to be? I wanted to be a writer, a musician, a teacher, a speaker. I wanted to be a news or travel reporter. Mostly, I wanted to add to this world and not take from it. I wanted to make a positive difference. And most of all, I wanted to be a mom and have a strong family.
Q: What path did you take to be where you are now?  ​
I took paths where I served my family, felt true to myself, and where skills matched opportunities.
Q: How do you define success in your career?  ​
Did I serve my family well? If I falter here, nothing else matters. Then, did I make a difference to those I serve in my career? So many students with great potential have crossed my path over many years. If I can create opportunities for them to learn, grow, and excel, then I have succeeded. For patients, if our resources helped them move toward recovery and become their best selves, that is a win. For health professionals, if our technical assistance leads to better patient and client outcomes for them, I have succeeded.
Q: What does being part of BH WELL mean to you? ​
I have been honored to be part of developing BH WELL. I am passionate about serving individuals with mental and behavioral health challenges and the health professionals who serve them. I have so much respect for Dr. Okoli as a nurse scientist, health provider, professor, human being, and friend. We value each team member and the skillset they bring to the table.
Q: What do you think other people should know about BH WELL? ​
We have a number of behavioral health experts who stay abreast of the latest evidence-based science regarding treatment of and support for individuals living with mental and behavioral health challenges. BH WELL has a number of creative and interesting resources that entertain and educate at the same time. Also, we are strategic in the way we support community-based mental and behavioral health professionals through providing trainings, consultation, resources, and much more. 
Q: What is your favorite superhero from BH WELL's The Dimensions comic series?
The Dimensions superheroes are based on the eight dimensions of wellness (as endorsed by SAMHSA). These dimensions are social, occupational, emotional, physical, financial, spiritual, environmental, and intellectual. If I had to pick one dimension that is my favorite, it would be spiritual. My personal faith has gotten me through a lot in life – both the highs and the lows. My faith gives me a second breath to keep moving forward toward good while drawing boundaries when necessary. So Raha is the superhero associated with that dimension. (You thought I would say Hope or Lucy – the characters created in the likeness of me and one of my daughters, didn't you? And you're right, I like them too!)
Q: If you had a 3-day weekend, how would you spend it?
What wouldn't I do? If there were no barriers and I could teleport, you would find me in Antarctica, Greece, Iceland, or one of a number of other countries that are on my bucket list. But for a more typical 3-day weekend, I would spend that with my daughters, son-in-law, our dogs, our extended family and those close to us. We could be out in the sunshine or inside, enjoy a nice meal together, and simply spend time making memories.