Dr. Amanda Lykins currently serves as the Staff Development Specialist (SDS) for Behavioral Health at UK HealthCare (UKHC) with responsibilities at UK Chandler Hospital, Good Samaritan Hospital, and Eastern State Hospital (ESH).
As an SDS, her focus is on nursing professional development and improving outcomes in inpatient care. She is an expert in clinical practice, education, research, and consultation and uses these skills to influence the three spheres of practice: Patient Care, Nursing, and Systems. She is an ANCC board-certified in Psychiatric-Mental Health Nursing. She is also the current President of the Kentucky Chapter of the American Psychiatric Nurses Association (APNA). Her research interests include improving the self-care of mental health patients and the self-care of nurses with an emphasis on suicide prevention.
Lykins shares, "I really enjoy the challenge of nursing and caring for the most vulnerable populations. I love seeing patients come out better on the other side whether through the use of coping skills or other tools with which we can equip them. Even the smallest changes are huge wins for them. I enjoy talking with patients and identifying their needs and walking with them to recovery. It's intriguing to me how every patient is different and has different needs. I enjoy the challenge of helping them heal."
Dr. Lykins joined the Behavioral Health Wellness Environments for Living and Learning (BH WELL) research team in 2018. As a part of BH WELL, she brings expertise in psychiatric disorders, educating clinicians on behavioral health challenges, and suicide prevention.
"Dr. Lykins is such a wonderful colleague and a strong advocate of patients, their families, and healthcare providers," notes Dr. Zim Okoli, BH WELL Executive Director. "Her years of experience as an educator of both clinicians and students have helped to shape the many educational products we produce through BH WELL. In particular, her work in suicide risk assessments and suicide prevention continues to remind us of the importance of addressing mental health challenges in diverse settings. She has trained many professionals throughout her career and this has led to the saving of many lives. We are truly thankful to have Dr. Lykins on our team!"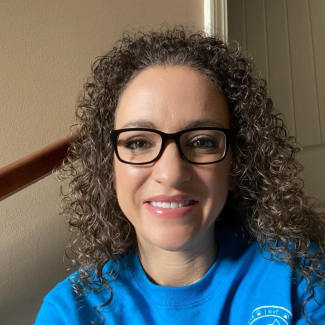 Q: When you were young, what did you want to be when you grew up?
An FBI agent with an emphasis on profiling.
Q: How did you go from that to being where you are now?  ​
I double-majored in criminal justice and psychology at Eastern Kentucky University (EKU) and graduated in 2004. Following graduation, I felt called in a different direction and I applied to nursing school at EKU.  I then pursued my ADN, BSN, MSN, and DNP degrees all at EKU.  I am currently the nursing staff development specialist for behavioral health at UK HealthCare and a clinical instructor for the mental health course in the BSN program at the UK College of Nursing.
Q: Is there a particular moment or memory from your educational journey that stands out to you? 
The final 2 years of my DNP degree were very challenging due to work-life balance; but, they made me a stronger person and a better nurse. 
Q: What do you like about being a preceptor to two of the Work Learning Program (WLP) Doctor of Nursing Practice (DNP) students?
I like to share the experiences that I've had in my nursing career and help them to see the various aspects of what we do here at UKHC in coordination with ESH.  Through their clinical experiences, the students were able to get a glimpse into how the organization approaches nursing care and how we strive to improve care for all patients.
Q: How do you define success in your career?  ​
Bringing the best care possible, based on my training and experience, to the patients and nurses that I support every day. 
Q: What does being part of BH WELL mean to you?
It means so much to be a part of this amazing team of people who are bringing a much-needed focus on "being well" and being healthy! I, at different points in my life, could have used the resources that BH WELL provides and I hope others will take advantage of this amazing resource.
Q: What do you think people should know about BH WELL?
We are here for you! Take advantage of all of the resources we have to offer! 
Q: If you had a 3-day weekend, how would you spend it?
Relaxing with my family.  I am a homebody and I love the downtime, especially after a busy work week.