BH WELL Partner Spotlight:
Maternal Mental Health Hotline
1-833-9-HELP4MOMS
Being pregnant and having a new baby comes with lots of emotions! It is normal to feel overwhelmed, exhausted, anxious, or sad during this time. However, if these feelings continue for more than a couple of weeks, it might be perinatal depression or anxiety. When this happens, a new mom might experience challenges in carrying out daily tasks such as caring for their new baby or themselves.  Perinatal depression or anxiety is common AND treatable. There is hope! And help is a quick phone call away!
Call or text, 1-833-9-HELP4MOMS (1-833-943-5746) to connect with counselors at the National Maternal Mental Health Hotline.
The U.S. Health and Human Services (HHS) Department's Health Resources and Services Administration (HRSA) recently launched this hotline for expecting or new moms who are experiencing maternal depression, anxiety or other mental health concerns. Moms can call or text 1-833-9-HELP4MOMS to have a confidential conversation with trained counselors at no cost!
The hotline is available 24 hours, 7 days a week. It is completely FREE and available during and after pregnancy. You can even call before pregnancy.
Not only will callers receive real-time support and information but also resources and referrals to local providers and support groups. In addition, counselors are committed to providing culturally sensitive support. English and Spanish counselors are available as well as interpreter services in 60 languages.  
HRSA funds the National Maternal Mental Health Hotline under contract to Postpartum Support International. Congress authorized the Maternal Mental Health Hotline in the Consolidated Appropriations Act of 2021.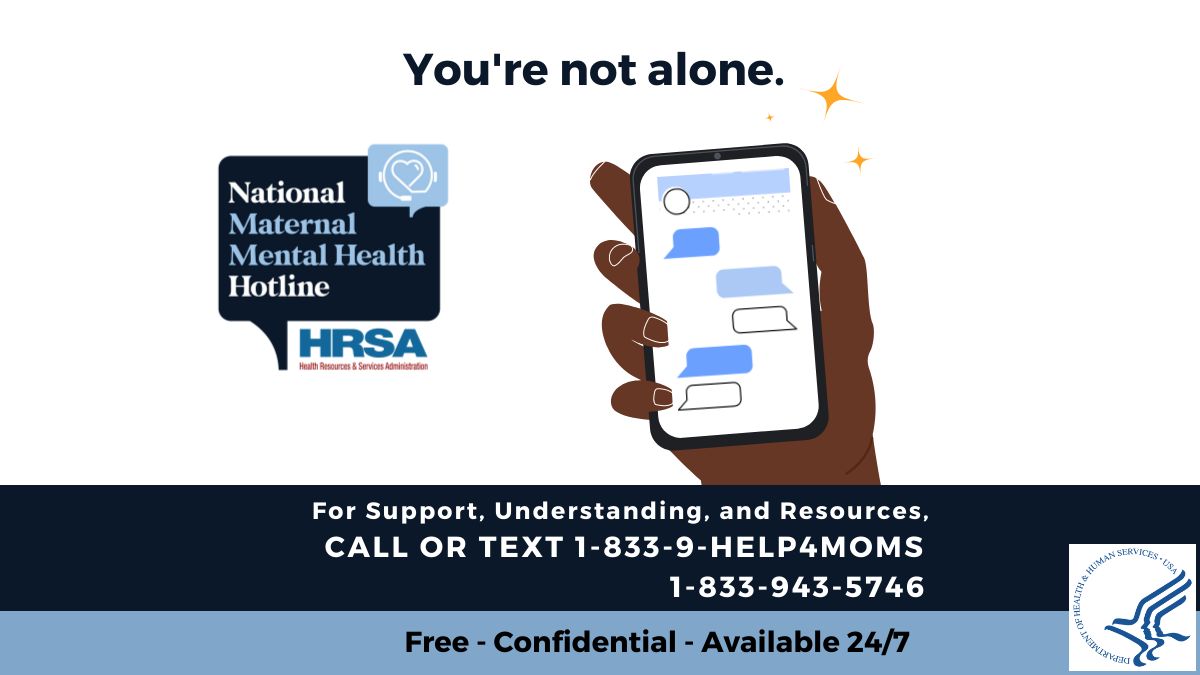 The Behavioral Health Wellness Environments for Living and Learning (BH WELL) research team is partnering to promote the Maternal Mental Health Hotline. BH WELL exists to promote behavioral health and wellness among individuals facing behavioral health challenges.